for a NYS Supreme Court Dist. 6:
Delaware County will be voting for a NYS Supreme Court Justice in 2023. Delegates to the Judicial Convention this summer will select a Dem candidate. Learn about Deirdre Hay — Dem candidate for our Judicial District 6. 
Deirdre Hay
Past President of Women's Bar Association of the State of New York. (Installed as president on May 31 at the organization's 2019 convention for a 1-year term.)
Director of Career Advising for Graduate Legal Studies at Cornell Law School.
Dedicated to the advancement of women in the law and in society, WBASNY has nearly 4,300 members throughout the state, including attorneys, judges, and law students. The association's mission is to promote justice for women in the legal profession and for women, children, and families in society; to support the fair administration of justice; and to act as a unified voice for its members on issues of statewide, national, and international significance to women generally and to women attorneys in particular.
Hay co-founded the Finger Lakes Chapter of WBASNY in 2006 and has served in various leadership roles in that chapter and at the state level (as a WBASNY officer and as co-chair of the Equal Opportunity in the Profession Committee). Prior to joining the Cornell Law administration, she worked at several international law firms, including DLA Piper, Cleary Gottlieb Steen & Hamilton (Washington, D.C.), and K&L Gates (Washington, D.C.). She is admitted to practice in New York State, the U.S. Supreme Court, the U.S. Court of Appeals for the Ninth Circuit, the High and Federal Courts of Australia, and the Supreme Courts of Victoria and New South Wales. She received her law degree from the University of Melbourne, Australia, in 1989 and a Doctor of Juridical Studies from the University of Sydney in 2005.
Speaking at the WBASNY convention, Hay emphasized that the year ahead would be one of activism for the association. "I am sure you have all noticed we are in the midst of a war on women," she said. She identified a number of fronts in this conflict, among them restrictive anti-abortion legislation and the dialing back of Title IX by the current Department of Education.
Hay notes that WBASNY members worked with New York state legislators and Governor Andrew Cuomo's office this year to help pass historic legislation to combat sexual harassment and implement protections for women against violence and rape. She says the organization is also working at the state and federal levels on issues such as pay equity and the Equal Rights Amendment. WBASNY has also been working on the issue of mass shootings with the governor. In a recent press release on the topic, he included a lengthy statement from Hay.
Bio information courtesy of Cornell Law School, Ithaca, NY 14853-4901
To quote my "shero," the Notorious RBG, "women belong in all places decisions are being made"
DEIRDRE HAY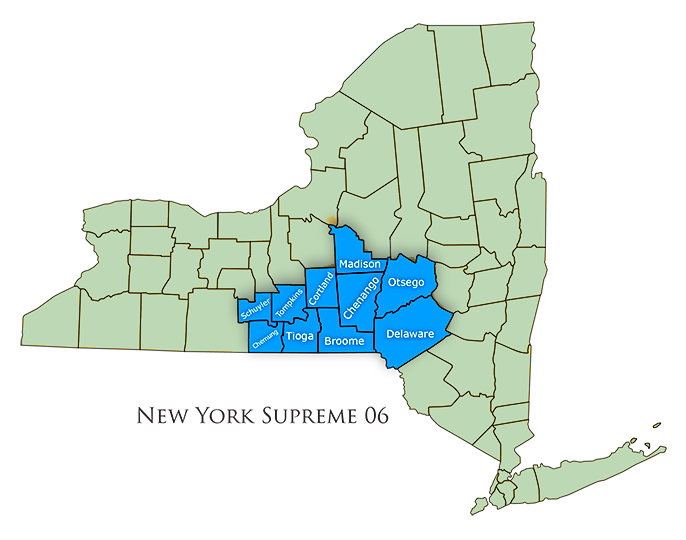 NYS Supreme Court District 6 is enormous.
Your donation to
"FRIENDS OF DEIRDRE HAY"
helps reach more voters.
DONATION BY CHECK
PREFERRED
(No third party handling fees)
Checks made payable to:
"FRIENDS OF DEIRDRE HAY"
Mailed to:
CAROL MALZ, TREASURER
15476 State Highway 23
Davenport Center, NY 13751
NOTE: Donations are not tax-deductible.